Martin Wohlrabe
Managing Director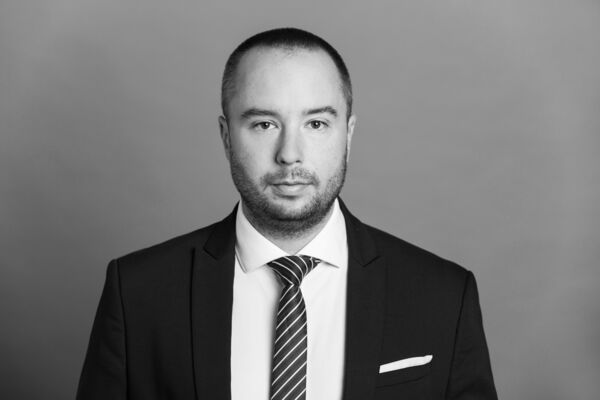 Martin Wohlrabe is a qualified lawyer who also worked as a journalist for many years. In the course of his long career in journalism, he car­ri­ed out research for the economics editors at BILD-Zeitung. He also worked as an author for SPIEGEL Online. Martin Wohlrabe was also ap­poin­ted as an advisor to Wolfgang Schäuble in the German Bun­des­tag, where he was responsible for the (former) Minister's public relations.
Wohlrabe is the founder of CONSILIUM. He has been advising com­pa­nies and individuals on strategic communication in extraordinary circumstances for many years. This includes corporate criminal pro­cee­dings, patent disputes, international arbitration proceedings, insolvency proceedings that have attracted nationwide attention and cyber-attacks.
Wohlrabe also lectures on "Strategic Legal Communication" at the Uni­ver­si­ty of Freiburg and is a member of the "Crisis Com­mu­ni­ca­ti­on/Is­su­es Management" working group of the Professional As­so­cia­ti­on of Pu­blic Relations Professionals (DPRG e.V.).
LECTURES/TALKS
Wohlrabe holds lectureships in "Strategic Legal Communication" at the Humboldt-University Berlin and the Albert-Ludwig-University Freiburg
"Convincing corporate communication in the crisis"
– Lecture with CONSILIUM consultant Marlen Fasold as part of the seminar "Crisis management in challenging times - recognizing imbalances, taking countermeasures & using opportunities" of the Hessische Hospital Society e. V. (14 September 2022)
"Competent communication in crises"
– Dialog with Detlef Fleischer (publisher "Existenz") at the 10th Turnaroundkongress 2022 (5 and 6 September 2022)

"Reputational risk ESG: What SMEs need to watch out for"
– Video impulse at CMS Hasche Sigle's digital ESG Day III (30 August 2022)
"Winning in the court of public opinion: Litigation-PR"
– Keynote speech at Hochschule Hannover (12 May 2022)
"Communication in the 'Court of Public Opinion' - How strategic legal communication works"
– Lecture at ROLAND Rechtsschutz - Legal policy council (29 April 2022)
"From the insolvency application to the closing date: How restructuring communication succeeds convincingly"
– Lecture at an event of the Institut für Insolvenzrecht e.V. Hannover (25 January 2022)
"When reputation is much more than just the name of the company - what matters in crisis communication, especially for family entrepreneurs"
– Talk at "Die Familienunternehmer" in Hamburg (25 January 2022)
"Litigation-PR in the context of public relations and digital communication"
– Lecture in the master's course "Media-Ethics-Religion" at the Friedrich-Alexander-University Erlangen-Nürnberg (13 January 2022)
"Bankruptcy proceedings: 7 lessons for employee communication in a crisis"
– Lecture at the Legal Communication Summit (9 November 2021)
"Law, Rhetoric and Public Relations"
– Lecture as part of the interdisciplinary study program "Law and Rhetoric" at the Eberhard Karls University Tübingen (29 October 2021)
"More persuasive communication in the workplace"
– Discussion round at the JUWiST Annual Conference 2021 (24 September 2021)
"In-depth aspects of legal communication - litigation PR"
– Lecture as part of the university course "Professional LL.M. Data Protection and Intellectual Property Law" at Danube University Krems (20 September 2021)

"Legal practice in the public eye: How lawyers protect their reputation - even with controversial mandates"
– Lecture at Deutscher Anwaltstag 2021 (8 June 2021)
"Companies in crisis - How to win back reputation with the right communication"
– Lecture as part of the seminar series on "Strategic Planning & Management" at the University of Potsdam (16 April 2021)
"Law firms under pressure: What matters for reputation protection in times of Cum-Ex & Co"
– Webinar "PI Risk Day" with Clyde & Co (23 February 2021)
"Focus on directors' and officers' liability: crisis communication in compliance cases"
– Webinar with CMS (21 January 2021)
"Companies in Crisis: The Interface of Restructuring and Communication"
– Webinar with Taylor Wessing and Dr. Wieselhuber & Partner GmbH (23 November 2020)
"Tatort Tönnies - Communicate correctly in the crisis"
– DUB-Business-Talk with Brigitte Zypries and Jens de Buhr (18 August 2020)
"Crisis PR after the Cyber Attack: What matters in times of the DSGVO"
– Presentation at Mainzer Datenschutztage 2020 (21 April 2020)
"Protecting the good reputation in the crisis - what matters in strategic legal communications"
– Lecture at the Zeppelin University Friedrichshafen (29 November 2019)
"Crisis PR after a cyber-attack: Key points in the GDPR age"
– Talk at the Legal Communication Summit (12 November 2019)
"Protecting the reputation in crisis"
– Bird & Bird (9 October 2019)
"Standing the test of the 'Court of Public Opinion' with strategic legal communication"
– Lecture at the University of Potsdam for the Master's Course in Digital Media Law and Management LL.M./MBA (4 June 2019)
"How companies get around public prosecutors with media pressure"
– Lecture at the AG Crisis and Issues Management Event by the DPRG (23 November 2018)
"Winning in the court of public opinion: Litigation-PR"
– Keynote speech at Hochschule Hannover (23 October 2018)
"Presentation of the CONSILIUM study: Influence of the media on judges and public prosecutors"
– Talk at the Commercial Criminal Law Association (WisteV) and the Berlin Defence Lawyers' Association (Berliner Strafverteidigervereinigung) (26 June 2018)
"Litigation PR for manager liability and other cases of damage"
– Financial Lines Days in Munich and Düsseldorf (5 and 6 June 2018)
"Law and PR as a holistic strategy for clients"
– Workshop at the Litigation PR Conference in Winterthur (18 April 2018)
"Litigation PR: Supporting legal strategies, winning over the public"
– Keynote speech at Osborne Clarke (10 April 2018)
"Insolvency and legal communication: Key aspects for working with the media today"
– Presentation at the 40th Reutling Insolvency Forum (13 October 2017)
"Strategic legal communication - Miracle cure or a toothless tiger? - Insight into and discussion of public relations work in the context of legal disputes"
– Presentation at the University of Freiburg (13 July 2017)
"Media work at large law firms"
– Presentation at KPMG Law (14 October 2016)
Keynote speech for the course "Introduction to strategic Legal communication" with Prof Christian Schertz at the Humboldt University in Berlin (29 April 2016)